Passion fruits are one of the most loved fruits by most gardeners as it's easy to grow, here we look at how to grow passion fruit in pots.
A passion fruit plant can grow from a seed and grow in soil or can be propagated by cuttings, but it will not flower unless you get it from a mature fruit tree. If you wish to grow your passion fruit in pots, then they are usually sold as container-grown passion fruit, these are very easy to care for and grow in pots with no problems.
Why Grow Passion Fruit In Pots?
Growing passion fruit in pots offers many benefits, here we will go over some of them.
Passion fruit plants are easier to grow in pots than in the ground. This makes them perfect for small gardens where space is limited.
They are easier to move around when they have outgrown their pots.
They are much easier to care for if you want to grow them indoors.
You can grow more than one passion fruit plant from a single pot.
They are much cheaper to buy in pots than in the ground.
They look much better when they are grown in pots.
They are very easy to care for and they need very little water.
You can grow passion fruit in pots outside and enjoy the beauty of nature.
If you move your pots inside you can keep them year-round.
You can grow passion fruit in pots anywhere around the world. So, are you ready to grow passion in pots?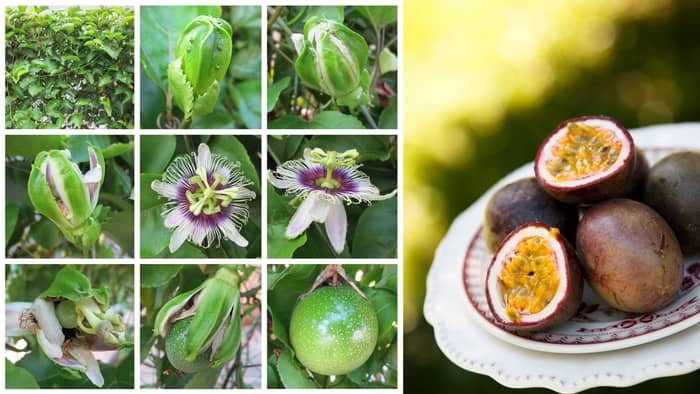 Learn more about: A Guide On How To Grow Monk Fruit
How To Grow Passion In Pots?
The best time to grow passion is spring and summer. You need a warm sunny spot in your garden or on your balcony. It should be protected from wind and rain. You will need ideal soil, with plenty of drainages and a good supply of water. Your potting mix should be rich in compost, peat, and perlite. Plant your seedlings in the pots, not directly in the ground. When they are two to three months old, you can transplant them into your garden.
Step 1:  Soak the seeds in water for 24 hours. After this period, drain off the excess water.
Step 2: Place the seeds in a paper towel and cover them with another paper towel. Make sure that the seeds are covered by the paper towel and do not get wet.
Step 3: Put the seeds in a tray, place them in a sunny spot and allow them to germinate at room temperature. Germination occurs within 7 to 10 days.
Step 4: After about 5 days, you will notice some tiny white roots coming out of the seed. Do not disturb these small plants.
Step 5: Pinch out the growing tip of the cotyledons and place them on a moistened potting mix.
Step 6: Allow the seedlings to grow for 2 to 3 weeks in a warm place. This is the first phase of the seedlings' growth. The seedlings should be watered regularly and if the soil is dry, add some more compost to it.
Step 7: You can now plant your seedlings in the pots that will hold the plant while growing.  Use deep and wide pots that will hold enough soil and water for the growth of this plant.
Step 8: Once the plants have started growing, make sure that they are well watered.  Ensure that you protect them from diseases and pests that attack this plant, especially during the flowering season.  Be sure to spray them with a pesticide that keeps the harmful pests away.
Step 9: Once the plants are ready to harvest, you may choose to cut them down. This will help to promote a healthy root system.  The next season, your passion fruit trees will shoot again and grow full cycle again.
Step 10.  Harvest your passion fruits when they are fully mature and beginning to ripen.  They will finish the ripening process when already harvested.  However, do not harvest them too early as they might not get the sweetness they get from leaving them on the tree longer.
Preserving passion fruits is a great way to enjoy the fruit all year round.  You can use the pulp in jams and jellies, or make ice cream out of it.  The seeds can be used for bread or cake mixes.
Take Home
It is very easy to learn how to grow passion fruit in pots and try them at home.  You don't need much space for this as you can use several pots on your patio and get a bounty harvest of sweet passion fruits.
It takes just two months for the passion fruit to start producing fruits. The plants are easy to maintain and grow well even when they are exposed to strong winds.
The fruits are ready to pick after three weeks of flowering, but the best time to pick them is when they are still firm and yellowish in color. You can make several varieties of delicious desserts with the passion fruit.  You can make ice creams, pies, jams, cakes, and other desserts with this fruit.  If you are looking for a healthy recipe, then try making passion fruit jelly or passion fruit juice. It is also a good idea to dry the seeds of the passion fruit as it contains a high nutritional value.
Read more about:
How To Grow A Mulberry Tree From A Cutting
Frequently Asked Questions
How long does it take for passion fruit to bear fruit?
Passion fruit takes around 3-6 months after planting. You will see the first fruit at the end of this time.
Do passionfruit vines need full sun?
They will tolerate some shade but prefer full sun. The vines can withstand temperatures as low as minus 5 degrees Celsius, but will not grow well below 20 degrees Celsius.
Can passion fruit grow in pots?
Yes, they are hardy and will tolerate temperatures down to 5 degrees C. Sow seeds indoors from March to April, or direct sow in early June.
What is the best fertilizer for passion fruit?
Apply a slow-release fertilizer at the rate of 10-20kg per square metre once every 2 months during the growing season. Avoid nitrogen fertiliser as it may cause leaf drop and poor flowering.